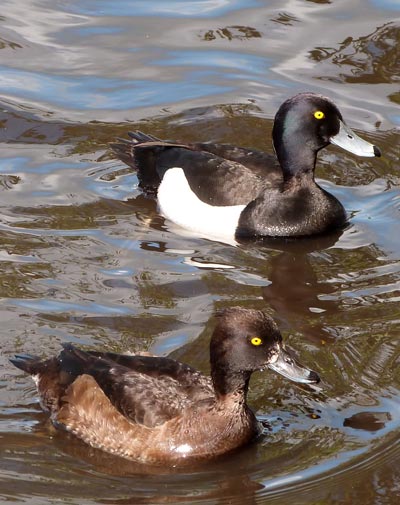 Our most common diving duck, the tufted duck nests on flooded gravel pits, lakes and reservoirs, and gathers in large flocks in the winter, often mixed with Pochard and Coot. Tufted ducks feed on waterweed, plant seeds and aquatic invertebrates.

The tufted duck is very distinctive: the female is entirely chocolate-brown, while the male is black with white flanks and a long tuft at the back of the head.

Tufted ducks nest in pairs or loose groups with nests near water about 10 metres apart. Females build a bowl shaped nest on the ground from grass and feathers and lined with dow and vegetation.

Tufted ducks lay 8-10 olive grey eggs which the female incubates alone for 26-28 days. The ducklings fledge about 45 days after hatching.

The scientific name of the tufted duck, fuligula, means 'sooty throat'. Like most ducks, the 'drake' (male) has nothing to do with the incubation of the eggs or raising the young. The 'hen' (female) has eight to eleven eggs in a brood; the young becoming independent once their true feathers have fledged.