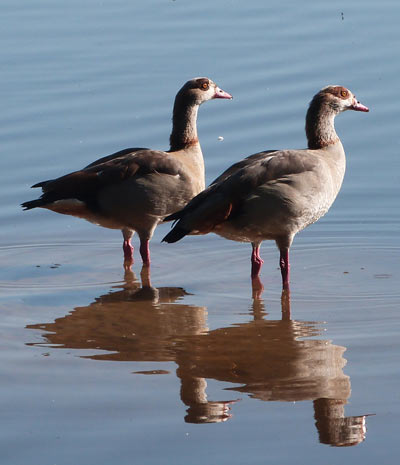 Once common along the entire Nile valley and regarded as sacred in ancient times, the Egyptian Goose is no longer an easy bird to see in the country from which it takes its name, as it is largely confined to upper Egypt. It is, however, widespread and common throughout sub-Saharan Africa, with introduced populations firmly established in England, Holland, Belgium and France.
In the wild, they like to lay their eggs in the abandoned nests of other birds. Incubation takes 30 days, and both parents tend the young.
The UK Invasive Alien Species Order came into force on Sunday 1st December 2019. The Order relates to Invasive Alien Species and sets out rules to prevent and minimise the impact of the introduction and spread of non-native animals and plants across the EU.
The Order makes it an offence, amongst other things, to import, keep, sell, transport, breed or release into the environment, any of the listed plants and animals. Invasive alien waterfowl currently covered by this Order are Egyptian Geese and Ruddy Ducks.